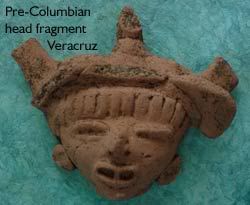 Now to the really good stuff!
The raptor migrations have begun here in Veracruz! If you've never experienced it is pretty mind boggling. Last year Pronatura Veracruz counted over 5.5 MILLION migrating raptors. The folks at Pronatura are one of the few groups doing anything about conservation and education here in Veracruz, I applaud their efforts.
(As a side note, three years ago when Tim Smart was here as a hawk watch counter he posted the daily results of the Veracruz count. I for one, really miss those daily reports on HAWKCOUNT/BIRDHAWK. The reports helped to give a true sense of the migratory marvel. I have mentioned it to both Norma Ferris and Rafael Rodriquez of Pronatura but so far the daily reports have not appeared. One of the mission goals of Pronatura is "environmental education" and the daily reports certainly contain migratory information.
If others out there miss the reports, I would encourage you to contact Pronatura Veracruz and see if they will share the information with the world.
pvecotours@infosel.net.mx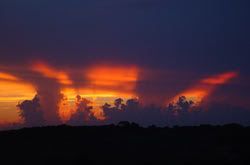 I have set up house here in Paso de Ovejas Veracruz SEE MAP. From the
rooftop
of my small apartment I have set up a hawk watch observation post. I have been able to determine that most of the raptor migrations from the Chichicaxtle count site pass directly over Paso de Ovejas. I will make an attempt to share with you via this weblog observation highlights as well as photos.
MISSISSIPPI KITES ANYONE???
Yesterday, September 3, 2004 provides some of the best views of Mississippi kites of the season. Approximately 38,000 Mississippi Kites were counted by PRONATURA between Cardel 16,000 and Chichicaxtle 22,000
Here are some photos that I took from my rooftop viewing area here in Paso de Ovejas.
I observed a heavy "push" from 13:00 to14:00 with up to three lines moving through at the same time. Around 20,000 Mississippi kites passed overhead in the course of an hour!
Here are some photos. Enjoy!
Photo 1
Photo 2
Photo 3
Photo 4
Photo 5
Photo 6