It ain´t over till it´s over! Looks like some flooding still may be possible. The damage reports continue to come in from tropical storm/hurricane Stan.....Mexican president Vicente Fox has been travelling the country and surveying the damage. On a national level , funds to the tune of 462 million dollars have been allocated for disaster relief.
Thus far in the state of Veracruz 140,000 people have been displaced fron their homes with 160 municipalities being affected. In just the state of Veracruz 15 rivers have overflown their banks.......and the moisture is still with us. In the state of Chiapas damages are still waiting to be assesed.
Greetings All:
Damn, I wish I could be telling you about migrating birds of prey and the numbers that are passing by.... but not yet.
When this weather breaks we should have one "whoopteedoo" push of raptors!
I can´t wait! Meanwhile.....please bear with me, and now for David´s weather report......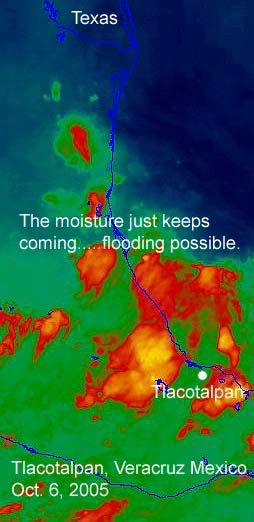 Water vapor satellite imagery as of 19:00 Oct. 6, 2005
This damn rain just won´t clear out!
It drizzled all of last night and sprinkled during the day. The drainage basin of the Papaloapan river is immense....the fact that this moisture fron "Stan" is not moving out is creating conditions for flooding here.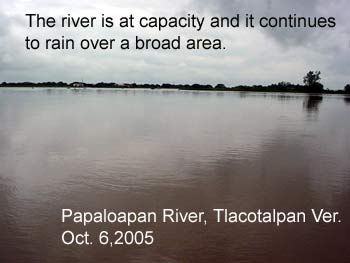 No wind, the river is calm and rising............Tlacotalpan, has been flooded on numerous occasions....1969 being the last major flood.....This was prior to the construction of the Miguel Aleman dam.....near Tuxtepec Oaxaca.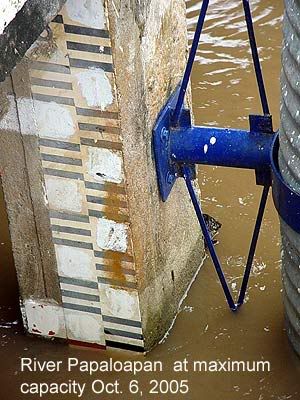 The marker shows that the river Papaloapan is to the brink......I think that there is a possibility that we may get some flooding.....only time will tell. The photo below was the marker on October 3, 2005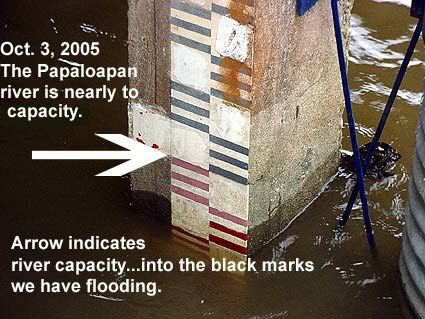 That´s it for the moment....just kickin back.........